The Problem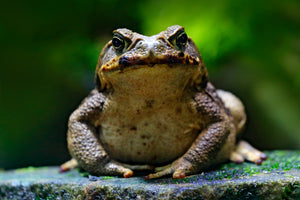 The Cane Toad / The Sonoran Desert Toad
Native to South America, the Cane Toad was introduced to Florida in the 40's in hopes that they would control pests in sugar cane fields. Instead, the venomous toads spread throughout most of Florida and killed untold numbers of dogs. 
The Sonoran Desert Toad (also called Colorado River Toad) uses the same bufotoxin. These Toads are very common in Arizona and New Mexico. 
PupDefense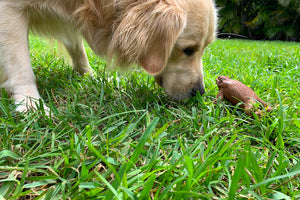 The Poison
Cane toads have large glands on their back that produce a bufotoxin. This toxic substance is released as a defense mechanism and can severely injure or even kill your dog when it licks or bites the toad. 
PupDefense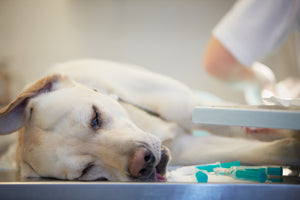 The Consequences
The Cane Toad toxins can kill your dog within 15 minutes without emergency treatment. Symptoms your dog may show include excessive drooling, loss of coordination, head-shaking, pawing the mouth and convulsions. 
PupDefense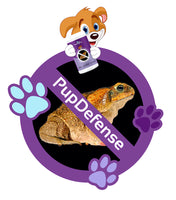 The Story Behind PupDefense
In 2018, our Golden Retriever puppy licked a Cane Toad in our backyard in Naples, Florida. He immediately started whining, shaking, and foaming at the mouth. After quickly using the garden hose to rinse his mouth out and driving him to the vet, he survived this scary night. If no one had been outside watching him, things could have gone much differently that day. 
After that day, we started working together with a local pest control company to create a product that will help us keep Cane Toads out of our backyard and away from pool screens so that we can worry a little less about our pup. 
After months of research, tryouts and testing, we found the perfect mixture that kept the toads away for good. Quickly the word spread and our neighbors and friends asked us if they can get the product as well. So we decided to create a website and give the product a name. 
We are happy to introduce PupDefense. PupDefense is an all organic, non-toxic, Cane Toad repellent that will help you keep your dogs safe when they are wandering your property. PupDefense was specifically developed and tested to keep your dogs safe from Cane Toads while not harming the environment. PupDefense is EPA exempt and registered with the Florida Department of Agriculture and ConsumerServices Bureau of Pesticides.
Colorado River Toad / Sonoran Desert Toad
After we received so much positive feed from happy customers all over Florida, we tested our product with the second poisonous toad in the U.S.. The Sonoran Desert Toad (also called Colorado River Toad). This toad is very common in Arizona and New Mexico and just as the Cane Toad has bufotoxins that are used as selfdefense mechanism leading to the death of many dogs in Arizona and New Mexico. PupDefense is just as effective with these toads as it is with the Cane Toads found in Florida.  
shop now
Testimonials
I have not seen one toad since using PupDefense. It took 3-4 weeks to change their behavior, but so worth it!

Cindy (Fort Myers)
Thank you so much for developing this product. I finally have a peace of mind when letting my pup out into the yard again. Using PupDefense since November 2019.

Lisa (Naples)
I apply PupDefense once a month around my backyard and the toad activity has decreased from around 5 a week to 1 in the last three months. Thank you!

Patrick (Cape Coral)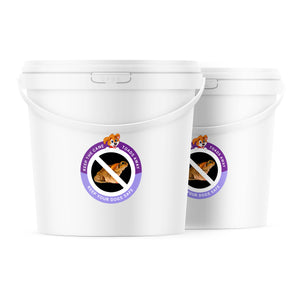 How to use PupDefense
1. PupDefense contains oils. Therefore, it is not meant to treat porous areas like driveways or patios as this might leave stains.
2. Apply PupDefense in all areas you have seen Toads nest before. This is usually around the house and in bushes.
3. Apply PupDefense along your property line / backyard fence to create an invisible barrier for toads.
4. Apply PupDefense twice in the first month (every 2 weeks) followed by an every 60 day treatment after that.
5. PupDefense has a smell and taste that Toads don't like. Toads will change their behavior and go somewhere else to avoid crossing the PupDefense barrier to get onto your property.
6. If used as directed, PupDefense is safe for pets, children, birds and flowers.